Mekdachi Khalil is a unique character actor, but works primarily in supporting media with foreign news matters using his expertise of multiple languages coupled with his understanding of international affairs. He grew up in Lebanon and attended Sorbonne University in Paris, and is proficient in Arabic, French, English and Japanese.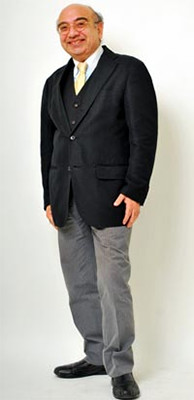 He came to Japan in 1996 and worked as a language instructor, translator and interpreter with several different media (NHK etc.) and also government agencies (JICA etc.).
Well versed in Middle East culture and having lived in Japan for 17 years, he has become valuable not only as a translator and interpreter, but also as a person to bridge the gap between Japan and the Middle East.
Other Activities
*Commercials: PEACH JOHN, Tokyo Metro, Bridgestone
*TV Programs: NHK「Arabic on Television」「Communication English I」「High School English」「Everybody's Japanese」「Living with Japanese」「English Conversation with Corpus 100!」